Interview with Peter Lux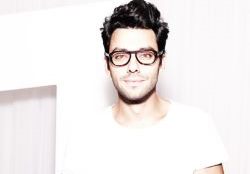 Peter Lux, Creative Beauty Director for 'Head & Shoulders' is one of the most in demand celebrity stylists in the business. He has worked on couture fashion shows for fashion giants Giorgio Armani, Dolce & Gabbana, Balmain and Roberto Cavalli to name just a few. He also boasts an enviable celebrity client list including Jude Law, Claire Danes, Roisin Murphy, Fearne Cotton and Cat Deeley. With award season in full swing, we caught up with this fabulous hair guru to find out how we could be getting our locks red carpet ready!
Peter, having worked on so many catwalk shows, you must be forever keeping an eye on seasonal trends. What main trends did you see coming through on the SS12 catwalks?

In a season defined by minimalism and natural beauty, hairstylists channelled easy elegance for spring. The sporting life was a popular theme with styles that looked fresh from the ocean or outdoors, and classic American glamour had a big moment with polished ponytails, graceful braids, and bouncy blowouts. Still nothing was to perfect or impeccable- deconstructed waves and undone knots and twists proved that having a bit of an edge is as chic as ever.

Is it difficult for us here in our homes to try incorporating these high fashion trends into everyday work / social life?

I think the easiest way of thinking about it is in a 'in reference to' approach. Take an element of a catwalk show and reflect it into everyday life. Thankfully the catwalk trends of today go more and more in a simple and wearable direction.

With the Oscars fast approaching, what kind of red carpet looks will you expect to see most of on the night?

I think this year it's all about the understated but groomed look. Keeping it simple is key to a red carpet event. The main feature should stay on the actress and the rest (dress, hair, make-up) is like an accessory to her personality

What red carpet hair suggestion would you give to ladies with thin, flyaway hair?

Work some soft texture into the hair by tonging the hair loosely and then putting it up in a loose undone chignon

What red carpet hair suggestion would you give to ladies with long, thick, curly hair?

Make a feature of your hair and define some curls with tongs.

What red carpet hair suggestion would you give to ladies with straight, thick hair?

Go for tousled waves with a straight side parting

And for those with short hair - bobs or pixie cuts - they are fairly limited in what they can do - is there anything little bit of advice that might give it a little extra va va voom on the night?

I did Emma Watsons hair for the pre Bafta event and we opted for this look. My favourite hairstyle for short hair is a slicked down do with a low side parting. It's my favourite look of the moment for armed carpet event.

Do you think people in general take good care of their hair or are there some vital things that perhaps we should all be doing to ensure maximum condition?

I think people tend to take good care of their hair but most people forget to care for the scalp. The scalp needs attending to and can be dry or sensitive from changing weather, diet or hormonale imbalances. Using a shampoo and conditioner like any from the Head&Shoulders range will ensure a healthy scalp and healthy hair.